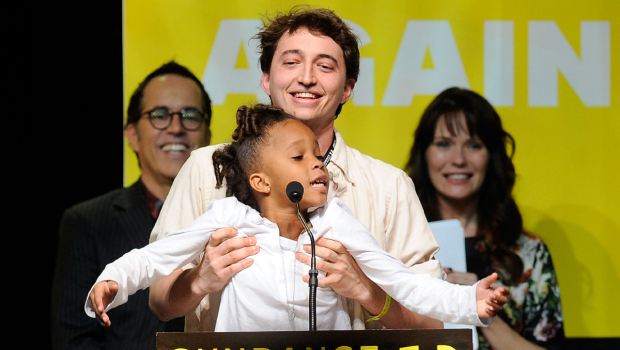 ECCO I NOMI DEI VINCITORI DI QUEST'ANNO
Si è tenuta ieri sera a Park City, nello Utah, la cerimonia di premiazione del Sundance Film Festival 2012. Quest'anno a trionfare è stato il film d'esordio di Benh Zeitlin Beasts of the Southern Wild, aggiudicandosi uno dei premi più prestigiosi della manifestazione: il premio della Giuria per il miglior film drammatico.
A colpire in particolare, e positivamente, i giudici è stata Quvenzhanè Wallis. La piccola attrice non professionista si fa interprete di una bambina che deve fare i conti con una  natura indomabile. La Giuria ha inoltre tenuto a spiegare che "con le sue rappresentazioni crude e potenti manifesta a pieno lo spirito del cinema indipendente".
La kermesse infatti è uno dei più importanti festival dedicati al cinema indipendente e, si sa, una delle differenze con le distribuzioni commerciali è proprio la tematica di una certa profondità e la durezza del racconto.
Il premio della Giuria per il miglior documentario è andato invece all'americano Eugene Jarecki con il suo The House I Live In, nel quale affronta il fallimento della lotta alla droga nella società dalla quale proviene egli stesso.  Per quanto riguarda i registi invece, sono stati premiati Laureen Greenfield per The Queen of Versailles e Ava Du Vernay per Middle of nowhere.
Dal canto suo, il pubblico ha preferito celebrare The Invisible war di Kirby Dick, pellicola dal forte impatto sociale per il tema degli stupri all'interno dell'esercito americano, e The Surrogate di Ben Lewin che si aggiudica ben due titoli: oltre al miglior film drammatico scelto dal pubblico, riceve anche il premio come miglior cast.
Questa la lista di tutti i premi:
Gran premio della giuria – U.S. Documentary: The House I Live in di Eugene Jarecki
Gran premio della giuria – U.S. Dramatic: Beasts of the Southern Wild di Benh Zeitlin
Premio della giuria – World Cinema Documentary: The Law in These Parts di Ra'anan Alexandrowicz
Premio della giuria – World Cinema Dramatic: Violeta went to heaven di Andrès Wood
Miglior regia – U.S. Documentary: The Queen of Versailles di Lauren Greenfiel
Miglior regia – U.S. Dramatic: Middle of nowhere di Ava Du Vernay
Miglior regia – World Cinema Documentary: 5 broken cameras di Emad Burnat, Guy Davidi
Miglior regia – World Cinema Dramatic: Teddy Bear di Mads Matthiesen
Premio Waldo Salt – miglior sceneggiatura: Safety not guaranteed di Colin Trevorrow
Miglior sceneggiatura – World Cinema: Young&Wild di Marialy Rivas
Miglior montaggio – U.S. Documentary: Detropia di Heidi Ewing, Rachel Grady
Miglior montaggio – World Cinema Documentary: Indie Game: The Movie di Lisanne Pajot, James Swirsky
Miglior fotografia – U.S. Documentary: Lars Skree per Putin's Kiss
Miglior fotografia – Dramatic: David Raedeker per My Brother the Devil
Premio del pubblico – U.S. Documentary: The Invisible War di Kirby Dick
Premio del pubblico – U.S. Dramatic: The Surrogate di Ben Lewin
Premio del pubblico – World Cinema Documentary: Searching for Sugar Man di malik Bendjelloul
Premio del pubblico – World Cinema Dramatic: Valley of Saints di Musa Syeed
Premio next del pubblico: Sleepwalk with me di Mike Birbiglia
Premio Alfred P. Sloan: Robot & Frank e Valley of Saints
Premio Speciale della giuria – U.S. Documentary: Love free or die di Mackly Alston
Premio Speciale della giuria – Dramatic: Ai Weiwei: Never sorry di Alison Klayman
Premio Speciale della giuria – World Cinema Documentary: Searching for Sugar Man di Malik Bedjelloul
Premio Speciale della giuria per la Visione Artistica: Can di Rasit Celikezer
Premio all'eccellenza cinematografica – Documentary: Chasing Ice di Jeff Orlowski
Premio all'eccellenza cinematografica – Dramatic: Beast of the Southern Wild di Benh Zeitlin