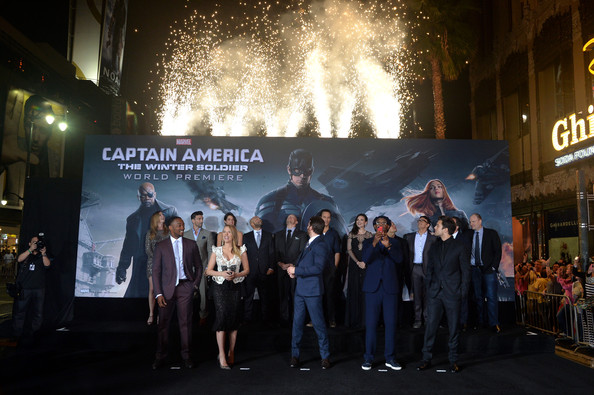 SI E' TENUTA AD HOLLYWOOD LA PRIMA MONDIALE DI CAPTAIN AMERICA: THE WINTER SOLDIER, IL NUOVO FILM SUL SUPEREROE DELLA MARVEL
Niente scudo per il protagonista di Captain America, Chris Evans. In un classico doppiopetto blu l'attore americano sfila sul red carpet per la prima mondiale avvenuta ieri ad Hollywood, al El Capitan Theatre, di Captain America: The Winter Soldier.
Tanti i presenti che hanno partecipato all'evento, non solo gli attori del cast ma anche il presidente della Marvel, Kevin Feige. Il film, sequel di Captain America- il primo vendicatore uscito nel 2011, arriverà in Italia il prossimo 26 marzo. Gli appassionati Marvel aspettano con attesa e trepidazione di tornare a vedere sul grande schermo il supereroe pronto per una nuova avventura. Sarà colpa dell'assenza dello scudo o del fascino un po' barbone che tutti i flash del protagonista sono stati rapiti dalla raggiante Scarlett Johansson.
Bella come sempre e incinta sfila avvolta in una camicia di pizzo bianca senza maniche e una gonna tubino nera stile retrò. Alla vista dell'attrice i fan e la stampa sono impazziti. All'effetto Johansson non si sfugge nemmeno se sei Captain America. Da poco sul web anche una nuova clip del cinecomic targato Marvel e Walt Disney Pictures che vede in azione il supereroe e Falcon, interpretato da Anthony Mackie. La prima hollywoodiana piena di celebrità si è svolta come una grande festa, speriamo per loro che la festa continui dopo l'uscita in sala.