QUALI SERIE TV SONO STATE RINNOVATE E QUALI CANCELLATE? ECCO LA LISTA
Si sono conclusi da poco gli upfronts per la stagione televisiva 2015-2016 che hanno stabilito quali serie tv sono state rinnovate e quali invece cancellate, esponendo anche il palinsesto per il prossimo anno.  Vi mostriamo la lista completa suddivisa per network.
La ABC ha rinnovato le serie tv di Shonda Rhimes (Grey's Anatomy per una dodicesima stagione, Scandal per una quinta e How To Get Away With Murder per una seconda), ordinata una seconda stagione per Secrets and Lies, black-ish, Fresh Off the Boat e American Crime. Sorprendente il rinnovo per le serie tv Galavant e Marvel's Agent Carter, che nonostante i bassi ascolti, la ABC ha pensato di ordinare una seconda stagione vista la qualità per il primo e l'accantonamento dello spin-off su Agents Of S.H.I.E.L.D., permettendo un'altra vita all'agente Peggy Carter. Terza stagione per Marvel's Agents of S.H.I.E.L.D. e The Goldbergs, quarta per Nashville, quinta per Once Upon A Time, settima per Modern Family e The Middle, ottava e forse ultima per Castle (dopo Nathan Fillion, anche Stana Katic ha rinnovato il contratto per un altro anno). Ci lasciano Forever, Cristela, Resurrection, Revenge (domenica è andato in onda il series finale) e The Taste, mentre è in forse il destino di Last Man Standing.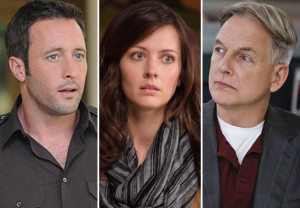 Il network CBS ha rinnovato CSI: Cyber e The Odd Couple (seconda stagione), Person of Interest (quinta stagione), NCIS (tredicesima), NCIS: Los Angeles (settima), Hawaii Five-0 (sesta), Criminal Minds (undicesima, senza Jennifer Love Hewitt che lascia per dedicarsi ai figli anche se potrebbe tornare), Elementary (quarta), The Good Wife (settima) e Blue Bloods (sesta). Nelle scorse settimane erano già state rinnovate Scorpion, MadamNCIS: New Orleans (seconda stagione per tutte e tre), oltre alle comedy The Big Bang Theory (per una nona e già ordinata decima stagione), Mike & Molly (sesta), Mom (terza) e 2 Broke Girls (quinta). Ci lasciano invece la nuova serie tv Stalker, The McCarthys e Battlecreek, mentre CSI Las Vegas potrebbe tornare con un film tv per chiudere la storia.
La FOX ha rinnovato Bones per un'undicesima stagione, dopo il rinnovo del contratto di Emily Deschanel e David Boreanaz; nelle settimane precedenti erano già state rinnovate Empire e Gotham entrambe per una seconda stagione, oltre a Sleepy Hollow (terza stagione), New Girl (quinta), Brooklyn Nine-Nine  (terza) e Last Man on Earth (seconda). Addio invece a The Following, The Mindy Project e Backstrom, anche se i primi due potrebbero essere salvati da Hulu, il gigante dello streaming.
Infine la NBC che ha dato una seconda chance alla serie tv con Debra Messing The Mysteries of Laura (da soli tredici episodi e con alcuni cambi creativi), Undateable (terza stagione) e The Night Shift (sempre terza stagione). Addio a una valanga di serie tv, in primis a Constantine (anche se è in trattative con la CW per una seconda stagione), poi One Big Happy, About a Boy, State of Affairs, Marry Me, Bad Judge, A to Z, Allegiance, Parks and Recreation e Parenthood (di queste ultime due si sapeva da tempo la loro cancellazione).