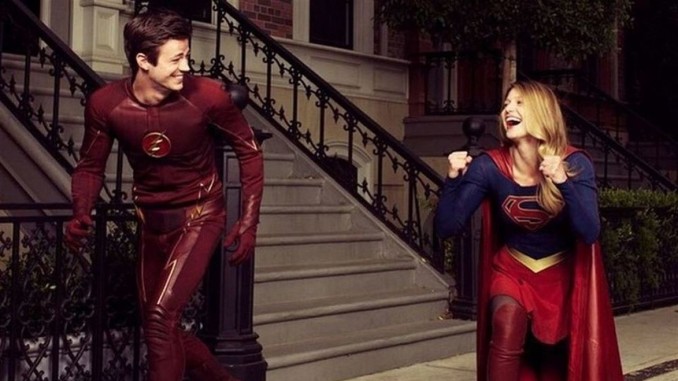 SUPERGIRL INCONTRA FLASH NEL CROSSOVER EVENTO, MENTRE RYAN MURPHY PARLA DI AMERICAN HORROR STORY 6
Mentre Batman e Superman lottano tra loro al cinema, Supergirl e The Flash uniranno le loro forze nell'atteso crossover tra le due serie create da Greg Berlanti. L'occasione avverrà nell'episodio in onda lunedì. Barry Allen si ritroverà nell'universo alternativo di Supergirl e, nel tentativo di riuscire a tornare nel suo mondo, aiuterà la supereroina ad affrontare non uno, ma ben due avversari: Silver Banshee (l'alter ego dell'assistente di Cat Grant, Siobhan Smythe, interpretata da Italia Ricci) e la cattiva Livewire (Brit Morgan) che fa il suo ritorno. "E' l'occasione più gioiosa nell'avere questi due supereroi che lavorano insieme nello stesso posto, allo stesso tempo", ha detto l'interprete di Supergirl, Melissa Benoist, recentemente in un'intervista. "Sono entrambi così felici con i loro poteri, con ciò che fanno e come aiutano le persone, che è contagioso ed eccitante vederli insieme." Ecco il promo del crossover tra Supergirl e The Flash:
Ryan Murphy torna a parlare della sesta stagione di American Horror Story. Durante il Paley Fest di domenica, il creatore di Glee ha espresso il suo desiderio di esplorare nuove tematiche nella serie horror del canale FX, in particolare ha parlato di "bambini". "Stiamo lavorando su due idee alla volta", ha detto, "una cosa che non ho mai fatto prima. Non abbiamo ancora un vincitore, ma abbiamo una forma diversa e siamo emozionati per questo. Ne parleremo molto presto, non l'abbiamo ancora lanciata", ha dichiarato in tono misterioso. Murphy ha aggiunto che inserirà degli elementi riferiti ai "bambini", riferendosi ai film dell'orrore come Il Villaggio dei Dannati di John Carpenter. "L'innocenza dei bambini, quella sorta di occhi grandi dentro i quali puoi introdurti in qualche mondo, è un concetto sempre drammatico e soddisfacente", ha spiegato. La sesta stagione di American Horror Story tornerà in autunno e sarà ambientata nel presente con riferimenti al passato. Per ora è confermata solo la presenza di Lady Gaga, ma non si esclude un ritorno di alcune presenze del cast "storico" come Sarah Paulson e Kathy Bates.