MICHELLE WILLIAMS, DA DAWSON'S CREEK A THE GREATEST SHOWMAN E TUTTI I SOLDI DEL MONDO
Ex ragazza della porta accanto in Dawson's Creek, Michelle Williams è oggi un'attrice affermata in tutti i sensi. Dalla candidatura a Premio Oscar ne I Segreti di Brokeback Mountain e per Marlyn, l'ex interprete del teen drama sarà prossimamente al cinema con The greatest showman e in Tutti i Soldi del mondo, mentre è fresca d'ingaggio nel cinecomic Venom. Biondissima, decisa e versatile, Michelle Williams ha iniziato la sua carriera in punta di piedi, prendendosi una rivincita su coloro che la davano per spacciata dopo la fine di Dawson's Creek. Eccola nei suoi cinque ruoli cult.
Jen Lindley (Dawson's Creek)
Il lancio sul piccolo schermo avviene nel teen drama Dawson's Creek. Nella serie tv, trasmessa sull'allora WB dal 1998 al 2003, Michelle Williams interpreta Jen Lindley, nuova arrivata nella cittadina di Capeside che sconvolge gli equilibri del gruppo formato da Dawson, Joey e Pacey. La Williams ricoprirà tale ruolo per tutte le sei stagioni dello show, diventando uno dei personaggi più amati.
Alma Beers (I segreti di Brokeback Mountain)
Nel film di Ang Lee, Michelle Williams interpreta Alma Beers, moglie di Ennis Del Mar (il compianto Heath Ledger). Per il ruolo ottiene la nomination all'Oscar. I segreti di Brokeback Mountain è la pellicola che la lancia nell'Olimpo di Hollywood, mentre sul set si lega all'attore Heath Ledger, che sarà suo compagno fino al 2007.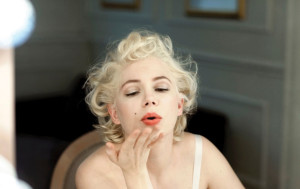 Marilyn Monroe (Marilyn)
Nel 2011, Simon Curtis la sceglie come candidata perfetta per vestire i panni dell'eterea Marilyn Monroe, attrice mito degli anni Cinquanta e Sessanta. Il film, Marilyn, racconta l'esperienza dello stagista Colin Clark (interpretato da Eddie Redmayne) sul set de Il principe e la ballerina, e dei giorni trascorsi insieme alla Monroe. Marilyn ci presenta una donna, prima ancora che attrice, fragile, debole e sorprendente: per la Williams – incredibilmente simile nell'aspetto alla vera Marilyn – è un altro successo e un altra nomination agli Oscar.
Glinda (Il grande e potente Oz)
Con Il grande e potente Oz, Michelle Williams aggiunge il genere fantasy alla sua fortunata carriera cinematografica. Nel prequel de Il mago di Oz, l'attrice ricopre il ruolo della delicata strega buona del Sud, Glinda, che aiuta Oscar (James Franco) a sconfiggere l'arcinemesi, la strega del Nord, in uno scontro tra Bene e Male. La parte affidata alla Williams era stata originariamente pensata per Blake Lively.
Randi Chandler (Manchester by the sea)
Immensa e drammatica in Manchester by the sea, Michelle Williams interpreta Randi Chandler, la fragile ex moglie del protagonista (il Premio Oscar Casey Affleck). Dopo averlo incolpato violentemente della morte dei propri figli, la donna lo lascia per poi scomparire dalla sua vita. Randi ritroverà Lee solo verso la fine della storia; un incontro fugace, straziante, che culmina nel peggiore dei modi. Un altro dramma che consacra la Williams con la sua quarta nomination agli Oscar.