THE SCI-FI SERIES E.V.A. DIRECTED BY ALICE ROSSO HAS BEEN PRESENTED IN LONDON LAST WEEK DURING AN OFFICIAL LAUNCH EVENT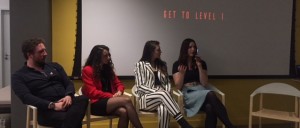 On Tuesday the 13th February, E.V.A. The Series launched the official teaser. Hosted by The Mill studios, the party featured the screening, original E.V.A. costume worn in the trailer, as well as Q&A with the creative team: Director and Writer of the series, Alice Rosso, Actor/Producer, Haley Bishop, Actor/Producer, Kate Baxter and Cinematographer, Sam Heasman. The event was hosted by Vanity Fair & Forbes contributor, Bridget Arsenault.
The series, adapted by Alice from the comic book by Marco Turini, explores a world in which society is forced to move underground after pollution and overpopulation destroy the planet. Humanity created GENYS , the underground world, divided into four horizontal levels. The 1st level, closest to the surface, is for the privileged who continue to live a normal life.
The 4th, closest to the Earth's core, is the most terrible – a burning hell where in order to survive people have had to install metallic implants and cybernetic hardware. The government assigned people to each level according to their social class and crossing levels is forbidden. Genys' balance however is about to change with E.V.A., the rebellious heroine who will fight the system in order to kill its "Messiah".
Originally the shoot was planned to be a screen test in order to judge the level of CGI needed for the E.V.A. costume. However, with 48 hr notice, the production team rewrote the premise and went for a more ambitious shoot. With the generous support and hard work of the crew, including steadicam, James Poole , SFX makeup artist, Mollie Merrifield , prothstetics artist, Jack Cave , and costume designer, Francesca Prizzon , the E.V.A. teaser trailer was successfully shot and then beautifully edited by Tom Cheater and graded by The Mill Studios.
After such a successful event, the team is now ready to move forward with production of the proof of concept for the series which is due to shoot this spring. To watch the trailer, follow the link:
Instagram: @evatheseries , #EVAtheseries