CAUSA COVID I CINEMA SONO CHIUSI, MA PER LA SERA DI HALLOWEEN 2020 SONO NUMEROSI I FILM DA VEDERE IN STREAMING SU VARIE PIATTAFORME
I cinema, come stabilito dal nuovo Dpcm sono chiusi, ma, nonostante l'amarezza per questa situazione non bisogna demordere. Ci sono, infatti, titoli nuovi che escono solo online e tante altre opere da scoprire o riscoprire. E quale occasione migliore se non quella del 31 ottobre, festa di Halloween, per fare un pieno di film horror?
Per la notte di Halloween 2020, infatti, sono numerosi i film disponibili in streaming su varie piattaforme, da Netflix a Prime Video, Sky e Now Tv.
Scopriamo insieme i nuovi titoli disponibili per Halloween. In vista della festa più paurosa dell'anno, torna Sky Cinema Halloween 2020 con oltre 70 titoli "da paura". I generi sono vari e comprendono sia film per tutta la famiglia sia gli horror più spaventosi.
I film disponibili on demand su Sky e in streaming su Now Tv alcune prime visioni come  il successo La Famiglia Addams, con alcuni doppiatori italiani d'eccezione, come Pino Insegno, Virginia Raffaele, Raoul Bova e Loredana Bertè. Ma si potranno vedere anche l'horror Color Out Of Space, tratto da una storia di H. P. Lovecraft e che ha come protagonista Nicolas Cage, alle prese con un meteorite;  il sequel del film del 2017 It, basato anch'esso sul romanzo di Stephen King, It: Capitolo 2 e numerosi film da rivedere.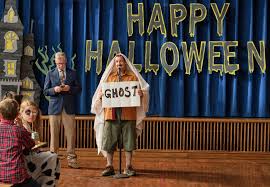 Il catalogo di Netflix, invece, spazia da cult come Venerdì 13 a rivisitazioni pop di favole dark, come Cappuccetto rosso sangue. Dalla caccia agli zombie che vedrà impegnato Brad Pitt in World war Z ad Anaconda con Jennifer Lopez alla nuova commedia di Adam Sandler, Hubie Halloween.  Accanto ai grandi classici dell'horror ( L'esorcista, L'alba dei morti viventi, The ring) ci sono anche delle novità declinate a puntate, come The Alienist 2  e The Haunting of Bly Manor. 
Imperdibili, poi, su Amazon Prime Video la visione de Le streghe di Roald Dahl con Anne Hathaway o la seconda stagione di NOS4A2, o per i più piccoli Zombies 2 su Disney+.
Non resta, quindi, che prepara i pop corn!