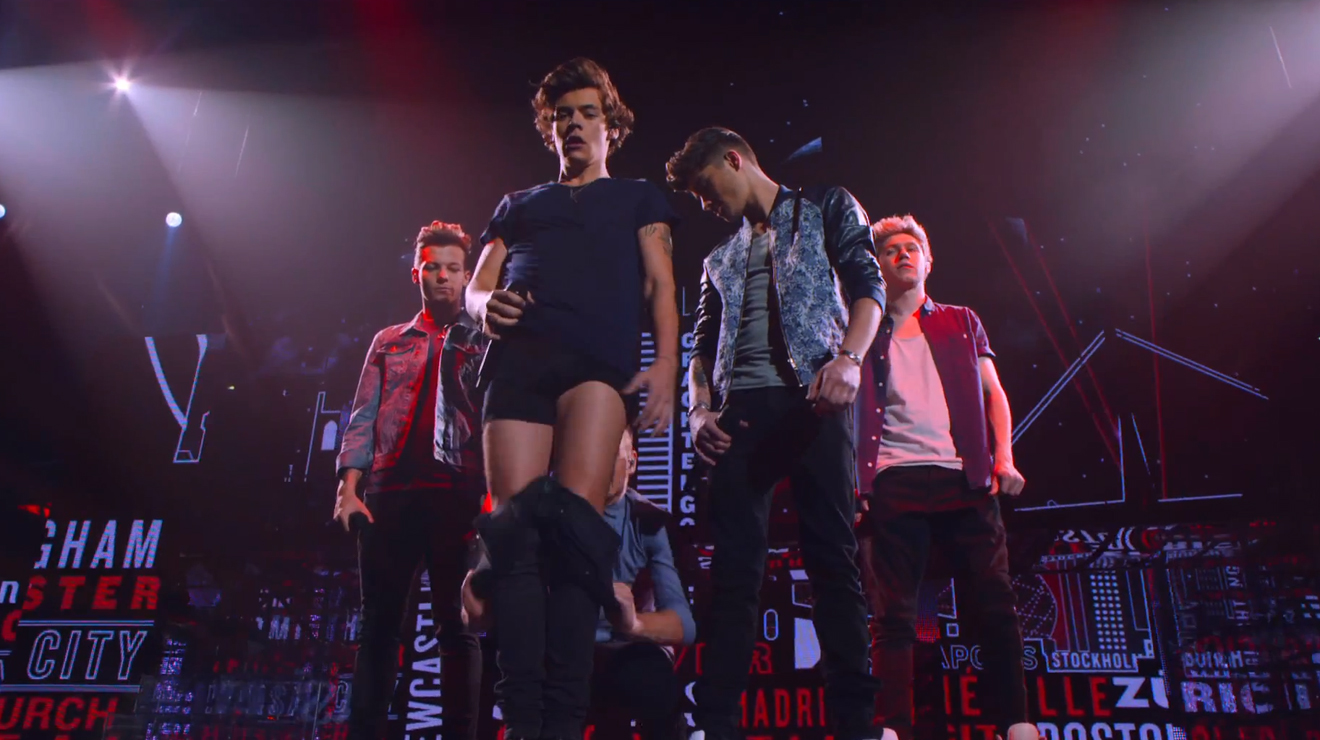 NON C'E' STORIA, PRIMI GLI ONE DIRECTION: THIS IS US, MENTRE NEGLI USA MARCIA TRIONFALE PER RIDDICK
Attenzione, quello che leggerete sarà fonte di riflessione accurata. Si riparte ufficialmente, dopo la sbornia di Venezia 70, torniamo a conteggiare e commentare gli incassi di fine estate, prendendo in esame lo scorso weekend di cinema. Primo, anzi primissimo posto per il film-live concert sugli One Direction: this is us 3D, che incassa quasi 1,5 milioni di euro in soli 4 giorni di programmazione.
Secondo posto per il buon Elysium che aggiunge ulteriori 900mila euro agli oltre 3 milioni incassati finora, mentre terzo gradino del podio, quindi medaglia di bronzo, per il cartoon Monsters University, che porta in dote oltre 800mila euro per un totale scollinato di 7 milioni di euro e passa. Un risultato davvero importante per il caldo agosto che ci siamo lasciati alle spalle. 
Qui sotto la classifica completa, la top 10 del box office italiano:
1) ONE DIRECTION: THIS IS US – 3D – 4gg 1.498.848
2) ELYSIUM – 910.495 TOT 3.072.239
3) MONSTERS UNIVERSITY – 853.423 TOT 7.312.294
4) RIDDICK – 4gg 606.663
5) COMIC MOVIE – 4gg 558.587
6) SHADOWHUNTERS: CITTA' DI OSSA – 375.122 TOT 1.669.563
7) L'INTREPIDO – 4gg 337.495
8) TURBO – 332.275 TOT 3.817.169
9) L'EVOCAZIONE – THE CONJURING – 297.252 TOT 3.179.426
10) RED 2 – 143.495 TOT 2.097.651
In America, invece, nonostante le recensioni "distruttive" spopola Riddick, forte dell'appeal di Vin Diesel, incassa oltre 18 milioni di dollari da new entry, seconda piazza per The Butler, che con altri 9 milioni scavalla la fatidica quota dei 90 milioni di dollari, terzo nella speciale chart arriva il film Instructions Not Included, che con 8 milioni guadagnati supera i 20 milioni di dollari.
Qui la top 5 a stelle e strisce.
1) Riddick (18,6 milioni di dollari)
2) Lee Daniel's The Butler (8,9 milioni di dollari)
3) Instructions Not Included (8,1 milioni di dollari)
4) Come ti spaccio la famiglia (7,9 milioni di dollari)
5) Planes (4,2 milioni di dollari)