DA THE SHAPE OF WATER A TRE MANIFESTI A EBBING, MISSOURI, TUTTE LE NOMINATIONS DEI GOLDEN GLOBES 2018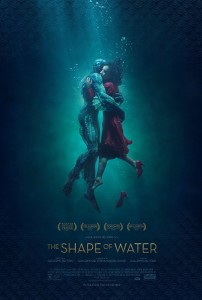 Poche ore fa Alfre Woodard, Garrett Hedlund, Kristen Bell e Sharon Stone hanno annunciato le nominations della 75esima edizione dei Golden Globes.
In una stagione dei premi meno ricca del solito di titoli ambiti, il dramma fantasy The Shape of Water di Guillermo Del Toro ha ottenuto ben 7 nominations (il film è già stato premiato con il Leone d'Oro al Festival di Venezia, lo scorso Settembre).
Tre Manifesti a Ebbing, Missouri di Martin McDonagh e The Post di Steven Spielberg hanno ottenuto entrambi sei nominations, mentre Chiamami col tuo nome di Luca Guadagnino è stato candidato in tre categorie.
Grande sorpresa per l'esclusione dell'attrice e regista Greta Gerwig, il cui esordio alla regia, Lady Bird, ha ricevuto un consenso pressoché unanime.
La cerimonia di premiazione dei Golden Globes avrà luogo il 7 Gennaio 2018 al Beverly Hilton Hotel e sarà presentata da Seth Meyers.
Di seguito la lista completa delle nominations del cinema:
Migliore film drammatico
"Chiamami col tuo nome"
"Dunkirk"
"The Post"
"The Shape of Water"
"Tre Manifesti a Ebbing, Missouri"
Migliore commedia o musical
"The Disaster Artist"
"Get Out"
"The Greatest Showman"
"I, Tonya"
"Lady Bird"
Migliore attore protagonista in un film drammatico
Timothee Chalamet, "Chiamami col tuo nome"
Daniel Day-Lewis, "Phantom Thread"
Tom Hanks, "The Post"
Gary Oldman, "L'ora più buia"
Denzel Washington, "Roman J. Israel, Esquire"
Migliore attrice protagonista in un film drammatico
Jessica Chastain, "Molly's Game"
Sally Hawkins, "The Shape of Water"
Frances McDormand, "Tre Manifesti a Ebbing, Missouri"
Meryl Streep, "The Post"
Michelle Williams, "Tutti i soldi del mondo"
Migliore attore protagonista in una commedia o musical
Steve Carell, "La battaglia dei sessi"
Ansel Elgort, "Baby Driver"
James Franco, "The Disaster Artist"
Hugh Jackman, "The Greatest Showman"
Daniel Kaluuya, "Get Out"
Migliore attrice protagonista in una commedia o musical
Judi Dench, "Victoria & Abdul"
Helen Mirren, "The Leisure Seeker"
Margot Robbie, "I, Tonya"
Saoirse Ronan, "Lady Bird"
Emma Stone, "La battaglia dei sessi"
Migliore attore non protagonista
Willem Dafoe, "The Florida Project"
Armie Hammer, "Chiamami col tuo nome"
Richard Jenkins, "The Shape of Water"
Christopher Plummer, "Tutti i soldi del mondo"
Sam Rockwell, "Tre Manifesti a Ebbing, Missouri"
Migliore attrice non protagonista
Mary J. Blige, "Mudbound"
Hong Chau, "Downsizing"
Allison Janney, "I, Tonya"
Laurie Metcalf, "Lady Bird"
Octavia Spencer, "The Shape of Water"
Migliore regista
Guillermo del Toro, "The Shape of Water"
Martin McDonagh, "Tre Manifesti a Ebbing, Missouri"
Christopher Nolan, "Dunkirk"
Ridley Scott, "Tutti i soldi del mondo"
Steven Spielberg, "The Post"
Migliore sceneggiatura
Guillermo del Toro e Vanessa Taylor, "The Shape of Water"
Greta Gerwig, "Lady Bird"
Liz Hannah e Josh Singer, "The Post"
Martin McDonagh, "Tre Manifesti a Ebbing, Missouri"
Aaron Sorkin, "Molly's Game"
Migliore colonna sonora
Carter Burwell, "Tre Manifesti a Ebbing, Missouri"
Alexandre Desplat, "The Shape of Water"
Jonny Greenwood, "Phantom Thread"
John Williams, "The Post"
Hans Zimmer, "Dunkirk"
Migliore canzone originale
"Home" da "Ferdinand"
"Mighty River" da"Mudbound"
"Remember Me" da "Coco"
"The Star" da "The Star"
"This Is Me" da "The Greatest Showman"
Migliore film d'animazione
"The Boss Baby"
"The Breadwinner"
"Coco"
"Ferdinand"
"Loving Vincent"
Migliore film straniero
"A Fantastic Woman"
"Per primo hanno ucciso mio padre"
"In the Fade"
"Loveless"
"The Square"