DA AD ASTRA A JOKER, ECCO TUTTI I FILM CHE SARANNO PRESENTATI IN ANTEPRIMA MONDIALE AL 76ESIMO FESTIVAL DI VENEZIA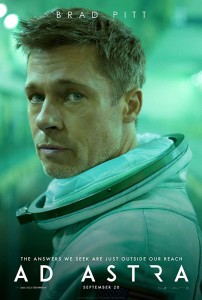 Stamattina è stato finalmente reso noto il programma ufficiale del 76esimo Festival di Venezia (28 Agosto/7 Settembre 2019), che si preannuncia un evento ricco di grandi film e di altrettante celebrità.
Il film d'apertura sarà La Vérité di Hirokazu Kore-eda, mentre tra i titoli che faranno senz'altro discutere, c'è Joker di Todd Phillips, che verrà presentato in concorso accanto allo sci-fi Ad Astra di James Gray, Wasp Network di Olivier Assayas (che lo scorso anno aveva partecipato con la commedia Il gioco delle coppie) ed Ema di Pablo Larràin.
Contrariamente a quanto successo durante il Festival di Cannes, a Venezia saranno presentati anche tre film di Netflix: The King di David Michôd, Marriage Story di Noah Baumbach e The Laundromat di Steven Soderbergh.
Tra i film italiani troviamo Martin Eden di Pietro Marcello, La mafia non è più quella di una volta di Franco Maresco, Il sindaco del Rione Sanità di Mario Martone, Vivere di Francesca Archibugi e Tutto Il Mio Folle Amore di Gabriele Salvatores.
Di seguito trovate la lista dei film che saranno presentati nelle varie sezioni del Festival di Venezia.
In Concorso
La Vérité – Hirokazu Kore-eda
The Perfect Candidate – Haifaa Al-Mansour
About Endlessness – Roy Andersson
Wasp Network – Olivier Assayas
Marriage Story – Noah Baumbach
Guest of Honour – Atom Egoyan
Ad Astra – James Gray
A Herdade – Tiago Guedes
Gloria Mundi – Robert Guediguian
Waiting for the Barbarians – Ciro Guerra
Ema – Pablo Larrain
Saturday Fiction – Lou Ye
Martin Eden – Pietro Marcello
La Mafia Non E Pieu Quella Di Una Volta – Franco Maresco
The Painted Bird – Vaclav Marhoul
Il Sindaco Del Rione Sanita – Mario Martone
Babyteeth – Shannon Murphy
Joker – Todd Phillips
J'Accuse – Roman Polanski
The Laundrymat – Steven Soderbergh
No. 7 Cherry Lane – Yonfan
Fuori Concorso – Fiction
Seberg – Benedict Andrews
Mosul – Matthew Michael Carnahan
Adults in the Room – Costas-Gravas
The King – David Michod
Vivere – Francesca Archibugi
The Burt Orange Hersey – Giuseppe Captonidi
Tutto Il Mio Folle Amore – Gabriele Salvatores
Fuori concorso – Documentari
Woman – Yann Arthus-Betrand, Anastasia Mikova
45 Seconds of Laughter – Tim Robbins
Roger Waters Us + Them – Sean Evans, Roger Waters
I Diari Di Angela-Noi Due Cineasti. Capitolo Secondo – Yervant Gianikian
Citizen K – Alex Gibny
Citizen Rosi – Didi Gnocchi, Carolina Rosi
The Kingmaker – Lauren Greenfeld
State Funeral – Segi Lonznitsa
Colective (Collective) – Alexander Nanau
Il Pianetra In Mare – Andrea Segre
Orizzonti
Zumiriki – Oskar Alegra
Bik Eneich (Un Fils) – Mehdi M. Barsaoui
Blanco un Blanco – Theo Court
Mes Jours De Gloire – Antoine De Bary
Nevia – Nunzia De Stefano
Pelikanblut – Katrin Gebbe
Moffie – Oliver Hermanus
Rialto – Peter Mackie Burns
Borotmokmedi (The Criminal Man) – Dmitry Mamuliya
Revenier – Jessica Palud
Giants Being Lonely – Grear Patterson
Verdict – Ribay Gutierrez
Qiqiu (Balloon) – Pema Tseden
Metri Shesho Nim (Just 6.5) – Saeed Roustaee
Chola (Shadow of Water) – Sasidharan Sanal Kumar
Hava, Maryam, Ayesha – Sahraa Karimi
Sole – Carlo Sironi
Eventi speciali
No One Left Behind – Guillermo Arriaga
Electric Swan – Konstantina Kotzamani
Irreversible – Inversione Integrale – Gaspar Noe
ZeroZeroZero – Stefano Sollima
The New Pope (stagione 2) – Paolo Sorrentino
Never Just A Dream: Stanley Kubrick and Eyes Wide Shut – Matt Wells
Eyes Wide Shut – Stanley Kubrick