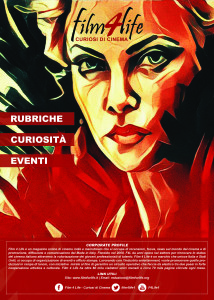 FILM 4 LIFE è un magazine che affronta l'universo #Cinema con uno sguardo competente, diretto e originale. Fondato nel 2008 da Simone Bracci e Francesco Buosi, il sito si occupa di promozione e comunicazione di settore, interagendo ogni giorno con l'industria dell'intrattenimento attraverso un flusso d'informazione che unisce idealmente Italia & Stati Uniti.
FILM 4  LIFE: PROMOZIONE DEL CINEMA
(italiano, indie e mainstream)
---
FILM 4 LIFE is a magazine founded in 2008 by Simone Bracci and Francesco Buosi, focused on the film industry with news from all over the world: interviews, movie reviews, reportage from the main film festivals and dealing with special focus on the indie cinema.
TEAM & COMPETENZE

DIRETTORE RESPONSAB
ILE:
SIMONE BRACCI – simone.bracci@gmail.com
Direttore Editoriale:
Francesco Buosi – fra.buosi@gmail.com
Capo-redattrice:
Eleonora Materazzo – eleonora.film4life@gmail.com
REDAZIONE:
Verdiana Paolucci, Lucia Mancini, Simona Montemurro, Gianvito Di Muro, Ylenia Politano, Angela Parolin, Krizia Ricupero, Valentina Mordini, Rosanna Donato 
PROGETTO GRAFICO: Professione Design by Daniele Ventrella
MEDIA AGENCY: Powered by GLIM Creative di Simone Bracci 
(Registro Stampa Tribunale di Roma n. 233/2011 del 26/07/2011)

CONTATTI:   redazione@filmforlife.org
SEDE:  Roma (IT) – New York (USA) 
(MAGAZINE DEDICATO ALLA MEMORIA
DELLA NOSTRA MARGHERITA NARDONE)
---