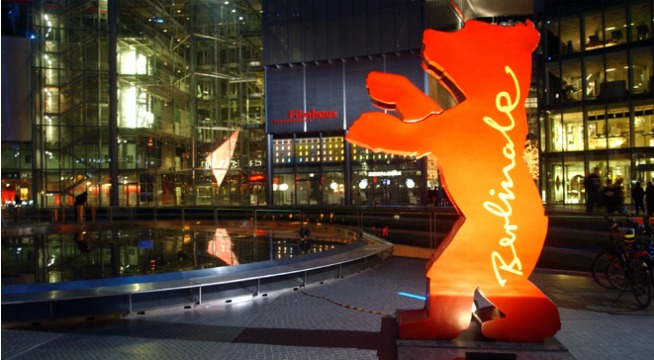 DAL 6 AL 16 FEBBRAIO LA CAPITALE TEDESCA OSPITA LA SUA BERLINALE 64 DA WES ANDERSON A CLOONEY I PRIMI TITOLI PREANNUNCIANO UN'OTTIMA KERMESSE
Sono solo sei, per ora, i titoli ufficiali annunciati e che varcheranno il red carpet della 64ma edizione della Berlinale storico Festival che quest'anno dal 6 al 16 febbraio renderà la capitale tedesca, per 10 giorni, templio del cinema mondiale.
Da tempo è arrivata la conferma che The Grand Budapest Hotel di Wes Anderson aprirà il Festival ma nuovi nomi sono stati confermati dagli organizzatori dei quali il più altisonante è sicuramente quello di George Clooney che porterà a Berlino, dopo dopo Good Night and Good Luck, Monuments Men che verrà presentato Fuori Concorso.
Per quanto riguarda la competizione invece sono, per ora, questi i titoli certi: 71 di Yann Demange, Aimer, boire et chanter (Life of Riley) di Alain Resnais, Aloft di Claudia Llosa con Jennifer Connelly, Cillian Murphy e Melanie Laurent, Die geliebten Schwestern (Beloved Sisters) di Dominik Graf, e Stratos, di Yannis Economides.
Prime certezze anche per la sezione Berlinale Special che vedrà tra le proposte del 2014 A Long Way Down, di Pascal Chaumeil con Pierce Brosnan, Toni Collette, Aaron Paul, Imogen Poots; i documentari Entente Cordiale (We Come As Friends) di Hubert Sauper e The Galapagos Affair: Satan Came to Eden di Dayna Goldfine e Dan Geller con le voci di Cate Blanchett, Diane Kruger e Connie Nielsen; e The Turning, antologia made in Australia che nel cast vanta la presenza di Cate Blanchett, Rose Byrne, Miranda Otto, Richard Roxburgh e Hugo Weaving.
Grandi film per un grande Festival cominciano a disegnare una 10 giorni di cinema intenso e spettacolare.