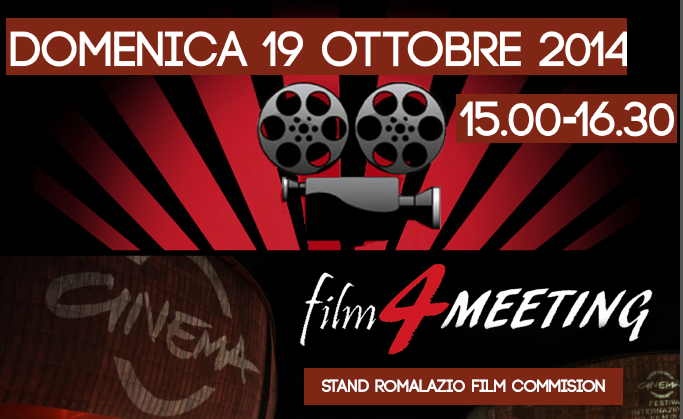 FILM 4 LIFE PRESENTS THE CONFERENCE "A JOURNEY THROUGH CINEMATIC CROSS- GENRES"
If you haven't marked your agenda so far, please take note: on Sunday October 19th from 3 pm to 4:30 pm at the booth of Roma Lazio Film Commission (Auditorium Parco della Musica) there will be the new edition of Film 4 Meeting – Show your talent, an event entirely promoted by our editorial staff.
After the great success achieved last year at the American edition of our #LosAngelesConvention where the gala testimonial and recently departed artist Giorgio Faletti, made his last appearance, Film 4 Meeting @ RomaFilmFest 2014  comes back in the city where the project is born.
The event presented in a new format, introduces young Italian talents in the show business, telling their experiences in the current working scenario, it's a true journey in the cinematic cross- genres" hosted at the booth of Roma Lazio Film Commission, that is in the cinema village within the 9th edition of the International Roma Film Festival.
The evocative atmosphere of the Auditorium Parco della Musica, for this occasion transformed in a magnetic red carpet, will be the background for a generation dialogue between experts in the field, especially on themes as web series, car racing, dubbing, animation and video-art. As always it will be promoted by Film 4 Life, here you can see the teaser of the last edition in the U.S.A.