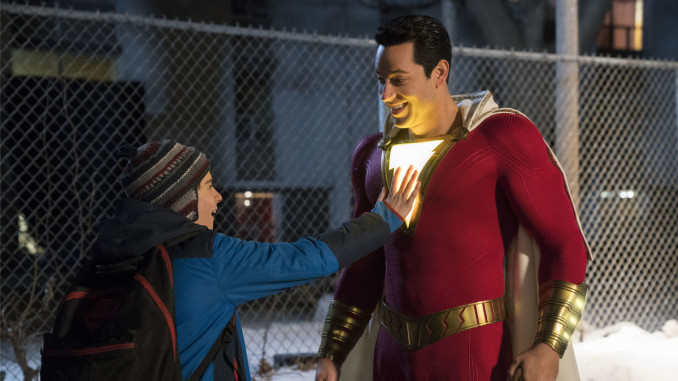 LA STAR DI SHAZAM ZACHARY LEVI SCELTO COME PRESENTATORE DEI PROSSIMI MTV MOVIE & TV AWARDS
La star del cinema Zachary Levi, protagonista nei cinema con la pellicola dal successo mondiale al botteghino, Shazam!(Warner Bros. Pictures/New Line Cinema, diretta da David F. Sandberg), condurrà gli MTV Movie & TV Awards 2019, lunedì 17 giugno di scena al Barker Hangar a Santa Monica (California) alle ore 21.00 locali.
Non è la prima volta che Levi si è cimentato nei film di supereroi: è anche apparso in Thor: The Dark World, interpretando il ruolo di Fandral. In precedenza, ha raggiunto la fama interpretando Chuck Bartowski nella popolare serie televisiva Chuck e, più recentemente, come Benjamin nella serie vincitrice agli Emmy® e ai Golden Globe® The Marvelous Mrs. Maisel, grazie alla quale ha portato a casa un premio SAG® come "Best Ensemble in a Comedy Series".
Levi si aggiunge così alla lunga lista di grandi star che hanno condotto gli "MTV Movie & TV Awards", come Tiffany Haddish, Adam Devine, Dwayne Johnson e Kevin Hart, Amy Schumer, Conan O'Brien, Rebel Wilson, Russell Brand, Jason Sudeikis e Andy Samberg.
Le categorie 2019 e i candidati saranno annunciati nelle prossime settimane. Tra gli sponsor ufficiali degli "MTV Movie & TV Awards 2019" ci saranno includono M&M'S®, MTN DEW® e Taco Bell®. Joel Gallen (Tenth Planet Productions) sarà il produttore esecutivo degli MTV Movie & TV Awards 2019 insieme ad Amy Doyle, Wendy Plaut e Vanessa Whitewolf. Rick Austin sarà il produttore esecutivo. Joseph Buoye e Alicia Portugal sono i responsabili della produzione. Amani Duncan e Lisa Lauricella sono i responsabili della musica.