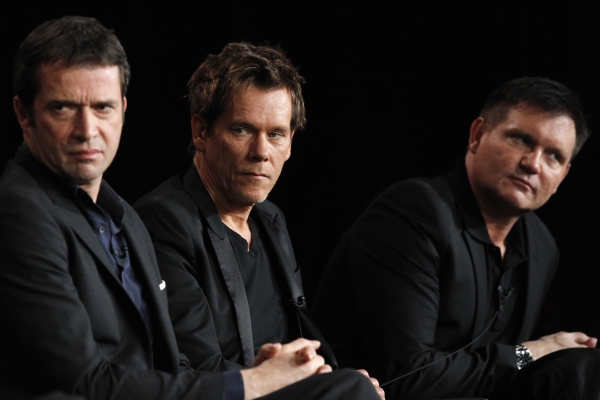 THE SECOND SEASON CLOSES WITHOUT ANY GREAT THRILLING CONCLUSION
The Following season 2 ended with an intense and surprising last episode, "Forgive" that saw the main character Ryan Hardy (Kevin Bacon) and his nemesis, the serial killer Joe Carroll (JamesPurefoy), allied in order to save the woman they both love, Claire (Natalie Zea).
The dramatic events happened in the previous episode, "Silence", left viewers bated breath, fearing the worst for the destiny of two major characters of the show, agent Mike Weston (Shawn Ashmore) and Claire. In the cathedral were he gathered his followers and holds hostages, Joe Carroll has just killed Preston Tanner (Carter Jenkins) and is about to shoot at Mike Weston too, when Ryan Hardy arrives telling him that twin killers Mark and Luke (San Underwood) kidnapped Claire. Joe is forced to abandon his murderous plan and to go with Ryan to the manor house where Claire is kept, but once they arrived there, they are drugged and captured by Mark and Luke. The fortuitous arrival of Mike and Ryan's niece Max (Jessica Stroup) causes a violent fight that ends with Luke's death and Mark's escape. The episode closes with Ryan who decides not killing Joe but entrusting him to the FBI and Claire who broke up with Ryan after she was rescued.
In the last moments of the season finale we see Mark who carries the body of his possibly dead twin brother in a truck, where a mysterious driver is waiting for them. Like the first season even this one was characterized by violence, mayhem, dualism and a twisted plot. FBI once again was portrayed as incapable of stopping Joe Carroll and his followers, while every initiative taken to capturing him, was led only by Ryan Hardy helped by his niece Max and agent Mike Weston. For 14 episodes viewers saw bloodshed, psychopathic families, fanatics, comeback of characters who were supposed to be dead, and a unlikely story, but the last one was a little bit different, more intriguing and somehow surprising. The show has been renewed so viewers have to wait until next year to find out what The Following third season have in store for them.
Recently the Following's executive producer Marcos Siega declared that third season of the series will be very different, Kevin Bacon's Ryan Hardy will be still important but the construct is going to be different as well as the way the story is told. There won't be as much random killing and stabbing, however the DNA of the show, in terms of it being a thriller and having lots of twists and turns, is what the producers don't want to change.