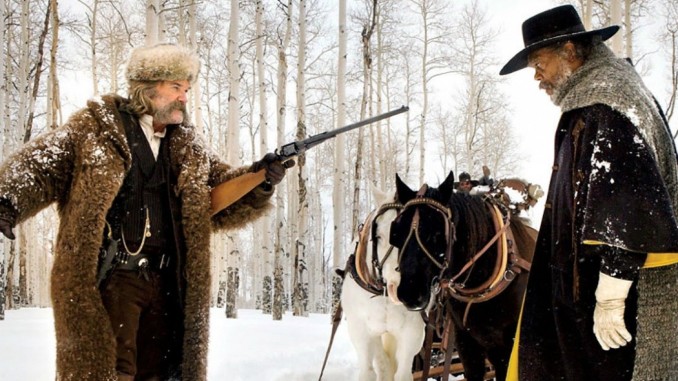 TARANTINO VOLA AL BOTTEGHINO ITALIANO, MENTRE STAR WARS SUPERA I 2 MILIARDI DI INCASSO A LIVELLO MONDIALE
Box Office Italia

Ottima partenza al botteghino per Tarantino, che incassa 3,4 milioni di euro con una media per sala superiore ai 5mila euro con The Hateful Eight, in testa alla classifica. Il duo Verdone e Albanese regge bene e supera i sei milioni di incasso con L'abbiamo fatta grossa sceso in seconda posizione. Terzo posto per Revenant – Redivivo. Seguono l'adrenalinico Point Break e il biografico Joy. Sesto posto per la new entry Il viaggio di Norm, nuovo lungometraggio animato. Quo Vado?, che ha passato da un pezzo il record dei 60 milioni di incasso, si trova ora in settima posizione. A seguire altre due novità: La quinta onda e PPZ – Pride and Prejudice and Zombies. Chiude la top ten Doraemon il film: Nobita e gli eroi dello spazio.
Box Office USA
Negli Stati Uniti resta al primo posto Kung Fu Panda 3, con un incasso di altri 21 milioni di dollari. Il nuovo film dei fratelli Coen, Ave, Cesare!, esordisce direttamente in seconda posizione. Revenant – Redivivo resiste sul podio, assestandosi al terzo posto sfiorando i 150 milioni di dollari di guadagno complessivo. Quarta posizione per Star Wars: Episodio VII – Il risveglio della forza, che supera quota 2 miliardi nel mondo e 900 milioni negli States. Da segnalare poi, dopo The Choice, l'altra new entry della settimana, PPZ – Pride and Prejudice and Zombies, che esordisce in sesta posizione.